FIFA 14
producer Sebastian Enrique has said that he wants the football series to outsell the
Call of Duty
franchise.The
EA Sports
executive said that Activision's military shooter line is as much a competitor to
FIFA
as Konami's
Pro Evolution Soccer
.
"I respect Konami a lot and they produce good games. A lot of people have played their games for ages," he told
MCV
. "I think having competition is a good thing but we don't consider competition to just be
Pro Evolution Soccer
.
Call of Duty
is also competition.
"People that are playing Call of Duty are not playing FIFA. We want them to play FIFA and we want to achieve that by creating the best possible game that we can create.
"That's what we focus on. We want to exceed everyone's expectations and exceed our own expectations and create the best game. Competition or not, these goal are not going to change for us."
Gallery: First images of FIFA 14: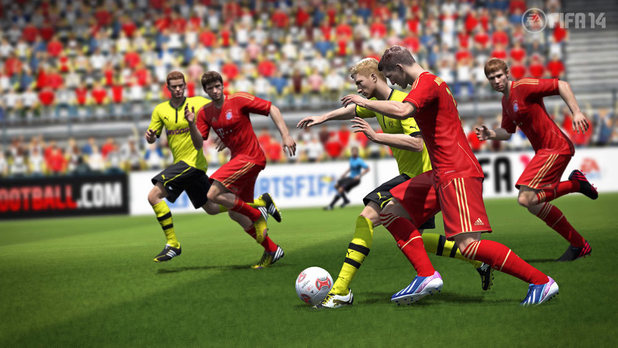 FIFA 14 was revealed by EA earlier this week, showcasing the new features coming to this year's football instalment.
As well as tweaks to dribbling and marking, 'Pure Shot' animates players to more realistically approach and shoot towards goal.
'Real Ball Physics', meanwhile, revamps the travel of the ball after it leaves the player, automatically adding swerves, dips and rises to crosses and shots.
The ability to 'Protect the Ball' is now moved to the left shoulder trigger, and can be deployed whether standing still or at a full sprint, allowing the user to hold up the ball and dictate the flow of the match.
Other changes will also come to offensive and defensive marking, the look of the Career Mode hub, scouting and skill games.
FIFA 14 will be coming to Xbox 360, PS3, PC and other unconfirmed platforms later this year.
Source Article from http://www.digitalspy.co.uk/gaming/news/a474822/fifa-boss-wants-series-to-be-bigger-than-call-of-duty.html